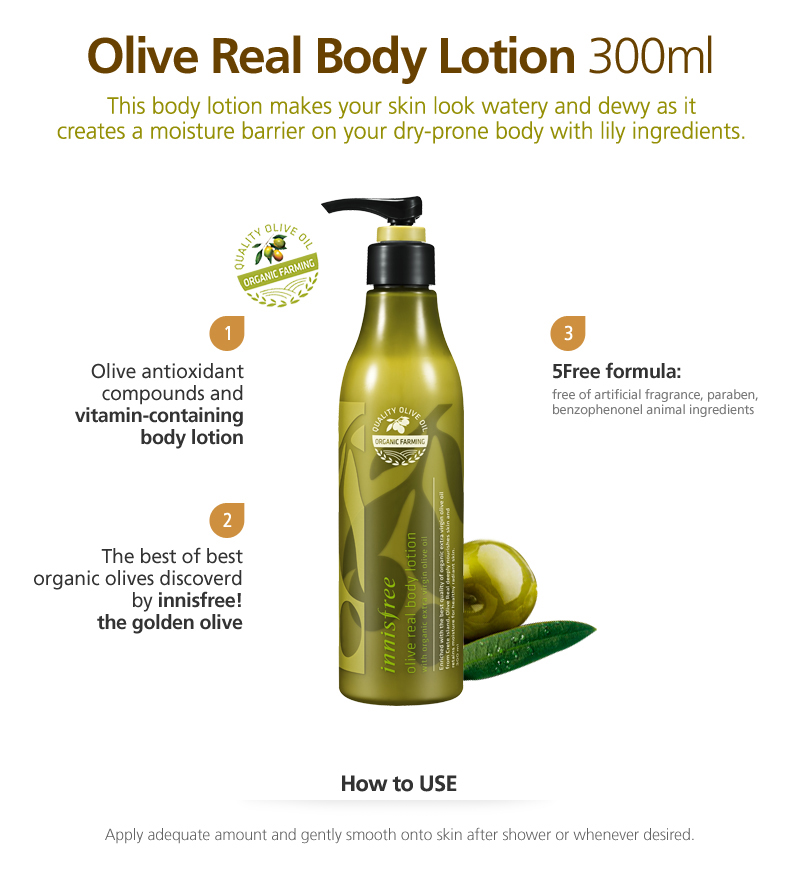 source: kpoptown.com
Enriched with extra virgin olive oil, the Innisfree Olive Real Body Cleanser promises to nourish the skin with moisture. It claims to be free from parabens, minerals, artificial coloring, Benzophenone, and animal ingredients. Innisfree also supports quality olive oil organic farming.
Retails at $15 (approx. Php 690)
Note: Please do forgive me for not including actual photos of this product in this blog post. I have totally ruined the packaging from months of use in the shower. Rest assured that I will describe my experience to the very best of my ability.
Pros:
Moisturizes
Gives the body a 'polished' look
Lathers well
A little goes a long way
Consistent formulation
Excellent product dispensing
5-Free: No Paraben, No Mineral, No Animal Ingredient, No Artificial Coloring, No Benzophenone
Supports organic farming
Neutral:
Citrusy and grassy scent
Scent doesn't last long on skin
Cons:
Packaging wears off in the shower
Not available locally
Expensive for a body wash
Packaging
As you could see on the stock photo I posted above, the container that it came with is pump type. I prefer this kind of container over others because the former makes it easier to dispense some product in the shower. It only takes a couple of pumps, and you could proceed with your cleansing.
When this was delivered, it was wrapped in clear plastic packaging. The plastic packaging came with stickers containing English translations of the product description and directions for use. Sadly, I had to tear off the English instructions to be able to use the product in the shower. All that is left now are directions in Korean.
The packaging would have been perfect, if it wasn't for the stickers. The stickers and other labels came off after I exposed them to the wet environment of our bathroom. I wonder why Innisfree didn't choose waterproof labels for this particular item. Is it because of the eco-friendly campaign they're promoting? I could only speculate on this. Nonetheless, this is not really an issue.
Formulation
When I first opened it, I did find the scent very unpleasant. It didn't smell good to me. It's like a bad herbal scent laced with a bit of citrus. I admit I kind of regret opening it. Its formulation is rather runny, too, and it's looks like a translucent gel. However, I like how it lathers so well, especially if used with a shower ball.
The bottle contains so much product, too, that it took me at least three months to empty!
By the way, a couple of weeks of consecutive use, I didn't find the scent unpleasant anymore. I became used to it, and decided it didn't smell that bad after all.
Effectiveness
I must say that I was impressed by how it cleansed my skin. My skin feels fresh and soft every time I step out of the shower. I also noticed that it leaves a 'polished' look on my skin. I could really attest that this product moisturizes really well. And, I don't even wear lotions!
And despite me hating the scent for the first few weeks, I realized it has some sort of body odor control capabilities, which is just perfect especially during warm and humid days here in the Philippines.
Others
When I bought it, it was on sale, 30 percent off. I don't have much experience with Korean body washes, and so far, I only managed to try Etude's line on body care. Therefore, this was rather a 'test' purchase' for me, to see really, if Korean body cleansers are worth buying. By then, I didn't have an idea what Innisfree was, or how popular it is, especially in the international market.
[DISCLAIMER]
This is NOT a sponsored or paid advertisement. NEWBEE (the author of this blog) purchased the said product using her own money.
Please note that the reviews are not by any chance made by an expert on makeup and skincare; these reviews are all based on the author's limited knowledge, thoughts, and opinions.
If you have beauty products that you'd like me to review, let me know!
Need advertising space? This blog is also open for advertising. Please send me a message to: newbeeworld31@gmail.com